Contents:
As Reinaldo was growing up, he gets into military school to become an agricultural accountant but clearly has something else on his mind and pursues writing poetry. In Havana, he enters a contest at the national library for storytelling and wins which offers the opportunity to become a writer and work for the library. He becomes friends with other writers and get to live the artist lifestyle in Havana from having private literary gathers, watching live theater, ballet, and partying in the popular places in Havana. Everything seems paradise but as always the arts is the first thing to go in a communist government and it became illegal to attend the beach, theater, and have literary gatherings that spoke against the government.
A bunch of Reinaldo's friends betrayed him by working for State Security or got other important jobs in the government. The sense of friendship became nonexistent because if you spoke against Fidel or mention plans of escaping you would get arrested by the secret police. Once he was an adult by the early s, he made the dumbest mistake of calling the cops over these two guys who he had sex on the beach who robbed his clothes and other items.
When the police arrived and found the two individuals they were sent to the police station. The head of the police was the uncle of one of the individuals and quickly the two individuals said that Reinaldo and his friend tried molesting them and in return they beat him up and stole his stuff. They were immediately released and because Reinaldo Arenas was a famous writer who wrote books that were censored from the government, they arrested him and put in jail.
Luckily he escaped before heading to prison and now he is running for his life. He tried countless ways of escaping the island but to no avail he was caught and finally sent to El Morro which is one of the most horrifying and dangerous prisons in Havana. He was not charged for being a homosexual and he was lucky enough because of that he was not harassed in jail or put into the special section of the prison dedicated to drag queens, homosexuals, or transgender which were constantly abused, raped, or live in worst jail cells. He was in prison for almost a decade, living in excruciating heat, freezing temperatures, barely any food to eat.
He was constantly interrogated to make a confession that he was counterrevolutionary, a homosexual, and the names of his conspirators. If he wanted to used the bathroom he had a hole to use which always got feces stuck to his feet and constantly had to smell the foul odor of his other inmates and himself. In the end he survives through all this horror and finally comes to America thanks to the Mariel boat lift but unfortunately he has been forever changed from the horrors of Fidel Castro. His friends were murdered, put into jail, committed suicide, escape to another country and for years he was not able to see his family.
When he came to America he was shocked how the U. He was outraged and felt like a stranger which he practically was since he was an exile never finding a place called home. The issues that I had with the book is as follows: OMG this man writes beautiful and has an incredible flow with his storytelling especially since English is not his 1st native language but he could had cut out about pages and be done with it.
Пока не наступит ночь () - Photo Gallery - IMDb
I disliked how I had to read pages about his childhood in order for the story to become interesting and not put me to sleep. His sexual encounters became out of control. He practically had sex with any person who had a penis and I did not find any romance or intimacy with his sexual encounters. I felt like he was like a piece of meat while every man took a bite out of him and discarded him. I understand people who have constant promiscuous sex which is perfectly fine by me but this man supposedly had sex by the thousands.
He would go to the beach one day, hid around in the bushes and then there would be a hundred men waiting to have their turn with him. Finally the final reason that I did not enjoy as much as I did was because this book is not meant for public consumption. And what I mean by that is yes it was interesting learning about Cuba during the ss, but he mentions so many people that he encountered, people of no importance, or individuals that are either quickly forgotten or too much gossip about them that you lose sense of who is who. It is important for everyone to learn about his story, a story that thousands of Cubans have lived through but this book was dedicated more for his friends and family that knew him.
Even though we learn of the horrors about Cuba, he plays homage to those who successfully escaped the island and to his friends and family who unfortunately died in Cuba in its disparity. What this book taught me is how thankful I am for my grandmother to be able to have relatives in America who were able to claim her and her family in order to escape the craziness of what was happening in Cuba.
If it weren't for her I would never have been born or I would have been born in Cuba in a country that countless people are starving every day, they lack any means of communication of the outside world, and a country that would have persecuted me already because of sexual identity. It is sad that millions of Cubans have been murdered in the hands of one man, one man only. People praise Fidel which is perfectly fine because we live in a country where Freedom of Speech is allowed. But if you look at the island in itself, and take the time to witness how these people have become ignorant savages in their own island it makes you wonder who would let these people suffer with no food, clean water, barely any money, and no freedom of speech and equal rights.
Then you ask yourself who is control of this government and thats when you put two and two together and realize that the country has had a dictator for 56 years who uses the Cuban revolution as the excuse for his actions. I will never understand how people worship Fidel Castro and Che Guevara.
I pray that one day Cuba can finally be free and in peace. I wish no harm towards my enemies but I wish we can finally find peace and put everything to rest. Es un libro que nunca estuvo en mi lista de pendientes, y me alegro profundamente de haberlo incorporado casi sorpresivamente. Ha sido una lectura impactante y de las que dejan poso durante mucho tiempo.
Me ha descubierto a una persona que supo ser feliz incluso en las peores circunstancias, que mantuvo la esperanza de llegar a ser libre. Y me ha gustado tanto que le perdono las algo obvias exageraciones, idealizaciones que nos cuenta. Jan 30, Robert Beveridge rated it it was amazing Shelves: Schnabel did an excellent job with the book; while his interpretation of the text was loose in places, he managed to capture in images the style of Arenas' writing.
In other words, if you saw the movie before reading the book, you're going to be somewhat surprised. Some of Schnabel's more memorable scenes are mentioned in passing if at a Reinaldo Arenas, Before Night Falls Penguin, Arenas' memoir of life in Cuba has recently been made into one of the finest films extant by Julian Schnabel. Some of Schnabel's more memorable scenes are mentioned in passing if at all in the book, and one of the film's central sequences, the balloon escape, gets one sentence. Where Arenas and Schnabel intersect is in the lushness, the ability to find celebration and remarkable beauty inside the ugliness of the Castro regime and, for a few years' worth, the Batista regime before it.
Arenas' memoir is also likely to shock more than a few in its sexual explicitness another aspect Schnabel rather shied away from, which I found a tad surprising while reading the book , but so be it. There is nothing gratuitous about either Arenas' promiscuity or his literary descriptions of it; it's no different than using the language of excess to describe the beastliness of a life that involves hand-to-mouth poverty and political censure. And throughout, more than anything and perhaps this is what makes the book so powerful , Before Night Falls is a celebration, both of Arenas' life and the lives of many other Cuban writers persecuted as dissidents in the latter half of the twentieth century.
Well I had to fight through that one at times. I understand and feel for the author with the Cuban repression of his art, and the squalor that he had to live in. I think he was a wonderful writer, and his novels are probably brilliant. His views of the American far Left made me smile, as how can anyone have a better view of Cuba and the hatred and unjustified oppression that communism in that country produces. I can not believe for one second many of the tales of his "erotic encounters. The island would shake itself apart and fall into the sea.
There doesn't seem to be a mode of transport that is not a moving bordello of pulsating homosexuality. It seems that every policeman, soldier, government official, and male in Cuba is either a blatant homosexual or a repressed homosexual. The author would be a walking fertility clinic if half of this is true; in fact I am surprised that he would be able to move without overbalancing due to the liquid content of his body. Perhaps this was not for me, but it does have merits in writing style and the crystal clear view into the oppression of literature and homosexuality in Cuba.
Jan 03, Sean A. Absolutely stunningly brilliant, candid memoir. Arenas does an immaculate job, as he would describe it, of screaming against the systems of control in this case, the so-called communism but really dystopian dictatorship of castro's cuba which doggedly plagued the author throughout his life.
If you are looking for a nice, inspiring biography that delicately glosses over the actual suffering part of the writer's experience, this book is not for you. If descriptions of sexual encounters enough to be questionable bother you, this book is also not for you. This was not easy to read by any means. While well written and compelling, the blunt descriptions of the things he saw and experienced are vivid and have genuine emotional impact. I feel admiration for him for having survived and gri If you are looking for a nice, inspiring biography that delicately glosses over the actual suffering part of the writer's experience, this book is not for you.
I feel admiration for him for having survived and grief for the people who were destroyed - some physically, some mentally. This book reminds me of how grateful I am to have been born in a country where I needn't worry of experiencing such poverty, oppression, or suffering. I am also grateful to him for sharing his story.
Mar 22, Jennifer Mccombs rated it it was amazing. The truth that stems from this book is beautiful. Quite possibly my favorite writer at the moment. Each description is original in thought and placed on paper with no insecurities resting behind his hand. This book will scare the shit out of you and make you think about Cuba and it The truth that stems from this book is beautiful.
This book will scare the shit out of you and make you think about Cuba and its' people in an entirely new way. No obstante, Reinaldo Arenas logra -con una prosa bien lograda y llena de reflexiones acertadas- abrir la puerta ante el secreto que el poder intenta mantener oculto. Even before the actual beginning of the book in the introduction we become aware of how unreliable Arenas is as a narrator.
The impression is repeatedly reinforced throughout the book to the point that it become impossible to fathom what is true from what is exaggeration or even fiction under the pen of someone who seems perpetually dissatisfied with his lot and clearly has an axe to grind. Having managed to read most of it in the original Spanish with the English translation at hand I was als Even before the actual beginning of the book in the introduction we become aware of how unreliable Arenas is as a narrator.
Having managed to read most of it in the original Spanish with the English translation at hand I was also surprised how shoddy and disrespectful of the text that translation appeared to be. The names of certain characters have been changed partially and entirely , the pagination altered paragraphs added, one moved from the front of a chapter to the end of the previous one , and some significant inaccuracies, not to mention a clear lack of cultural sensitivity from the translator with regards to the gay world.
Sep 16, Eddie Clarke rated it really liked it Shelves: A brave, honest and tragic autobiography, in a way demonstrating the persistence of idealism and hope despite the horrors of Castro's Cuba and the brutal disappointments of exile. Quite raw and unpolished, perhaps due to the circumstances in which it was written he had AIDS , but nevertheless extraordinarily powerful and emotionally affecting. Nov 15, Eddie rated it really liked it.
I want to visit Cuba more than ever after reading Reinaldo Arenas' bio. When you read this book, you will be given a raw and realistic insight into cuban society under Fidel Castro's regime and it will not look all that good, but something about it just makes cuban culture and cuban history very intriguing.
Arenas' story is a rough patch. All along, from birth to death. Yet he seemed to juggle his hardships in a very brave and undefeated way, it's as if he was used to live in misery and accept it I want to visit Cuba more than ever after reading Reinaldo Arenas' bio. Yet he seemed to juggle his hardships in a very brave and undefeated way, it's as if he was used to live in misery and accept it as part of his existence. Although it does get to distressing lengths at certain points and you feel him giving in, he eventually goes as far as attempting suicide while in jail.
The majority of his entourage is depicted in such a way that you only think of them as despicable beings, I got enraged at some of the passages, specifically with his friends and family turning into state informers snitching on him and the corrupted Castro system which is more laughable than anything else. The sex is wild in this book, and it is without doubt real and as accurate as it gets.
One of the comments here said that Arenas exaggerated his erotic accounts presenting every male character as being gay and that most of the sex is made up. Truth is, gay or straight, those boys were ready to pounce on just about anything that moves. Men in underdeveloped countries can scream their devotion to their totalitarian government or their pious worship to religion all they want, there is nothing more relieving to their frustrated souls than sticking it in any hole available and according to Arenas, those cuban men including cops and government officials help themselves just fine.
And with the cuban heat to top it off, that libido must be skyrocketing to extreme heights. So prepare yourself to witness a sex circus throughout this piece of literature. It's entertaining, to say the least. More than two decades ago I read a devastating memoir, 'Against all Hope' by Armando Valladares, that depicted the brutality of Castro's Cuba from the view of a prison cell.
Own YOUR Power - Goddess Book of Prayers.
Пока не наступит ночь () - Plot Summary - IMDb.
Lucky Star;
Unmerited Favor.
Now I have encountered a comparable memoir in 'Before Night Falls'. His memoir, just as shocking as that by Valladares, is above all a book about being free -- as an artist, a citizen, and a human. Recounting his journey from a poverty-stricken childhood in rural Cuba undoubtedly a more severe life than poverty in America d More than two decades ago I read a devastating memoir, 'Against all Hope' by Armando Valladares, that depicted the brutality of Castro's Cuba from the view of a prison cell.
Recounting his journey from a poverty-stricken childhood in rural Cuba undoubtedly a more severe life than poverty in America due to the lack of infrastructure in Cuba Arenas narrates his life over four decades until his death in New York. His farewell letter at the end of the memoir is as touching as anything I have ever read. He lead a life filled with action for the defense of individual freedom of humanity in his home of Cuba; but he also lived a life that was Kafkaesque with episodes of imprisonment and suppresion of his writing by Castro's Cuba.
It is a story that reminds me more of the Inferno of Dante which I recently read than life on earth, even recognizing that we do not live in a paradise.
Arenas' memoir is a great work of art, but also a tribute to the spirit of man. Jan 02, Alex rated it it was amazing. This is an incredible memoir that enriched my trip to Cuba immensely.
Before Night Falls (2000) trailer
It's a brutal history of the Castro regime's devastation of the Cuban gay literary community, from a very compelling narrator. It was painful to read at times, but I felt the weight of the importance of this story especially being there and being pummeled by Castro propaganda at all times. Around the middle of my trip, I realized the book itself was probably still contraband and started to hide the cover while I was reading This is an incredible memoir that enriched my trip to Cuba immensely. Around the middle of my trip, I realized the book itself was probably still contraband and started to hide the cover while I was reading it.
Just outside of Havana, on a tour bus, I recognized El Morro from the author's description, a prison in which the author was incarcerated. Upon questioning, our tour guide insisted that it was not and had never been a prison -- a revisionist history indicative of an ongoing dictatorship. This is a phenomenal book and it should be required reading for anyone with a social conscience traveling to Cuba. Apr 03, Ryan rated it really liked it. Remember when memoirists actually had something to say?
Aug 21, Adam rated it liked it. I was pretty sure I'd like this one The last few pages it seems like he becomes an astrologist or looking for meaning in everything. Jul 31, Troy Rutman rated it it was amazing. You can fall in love with a ghost. Inizia a lavorare in biblioteca ed a riunirsi con altri poeti e scrittori clandestinamente.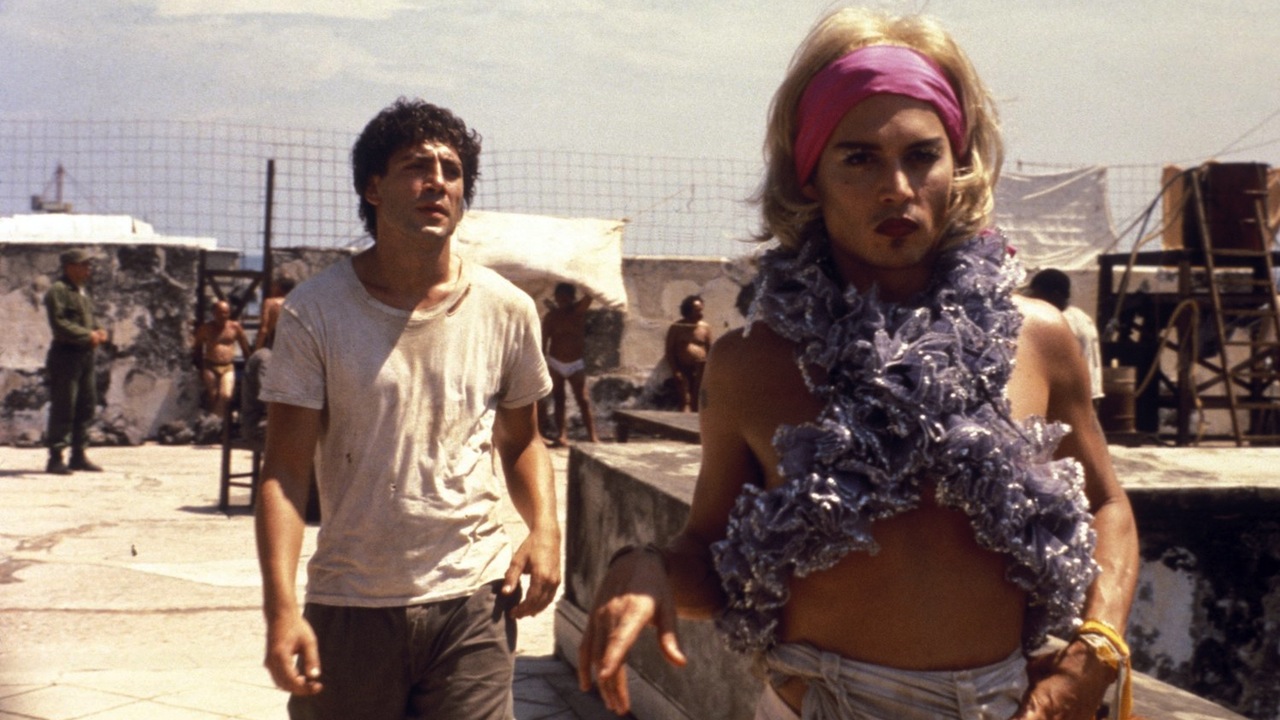 Ci sono molte pagine in cui traspare il suo amore per Cuba: Le mareggiate invernali, sedersi di fronte al mare, camminare da casa mia fino alla spiaggia a vedere il tramonto. Il tramonto di Cuba, irripetibile, specialmente all'Avana, dove il sole va a cadere come un'immensa palla nel mare, mentre tutto si trasforma in un mistero unico e breve, nel profumo del sale, della vita, del tropico.
Le onde arrivavano quasi fino ai miei piedi, lasciando sulla sabbia una scia dorata. Non potevo vivere lontano dal mare Io sono venuto qui per gridare". Posso capire che tu abbia sofferto nel tuo paese, ma io sono un grande ammiratore di Fidel Castro ed apprezzo quel che ha fatto a Cuba. Alcuni righe di lirismo, rivolte alla luna, mi hanno incantato: Sul tuo volto vedevo un'espressione amara, di dolore, di compassione verso di me, tuo figlio. E adesso, all'improvviso, Luna, ti frantumi sul mio letto".
Mar 31, Nooilforpacifists rated it liked it Shelves: A compelling man; there's a compelling story here. I'm no prude, but I could have done without descriptions of probably half of Arenas's estimates 5, different sexual encounters. That said, the Introduction and the Farewell are breathtaking.
Growing up under Batista is moving. And the middle third: Sadly, once he escap A compelling man; there's a compelling story here. Sadly, once he escapes on the Mariel boat lift , Arenas is a fish-out-of water in exile. He hates Miami, though settles and loves New York. But his books, once assigned reading at many major Universities, are pulled from the syllabus when he resumes denouncing Castro publicly: I remember that at a Harvard University banquet a German professor said to me: Arenas was thrilled to have lived long enough to witness the downfall of Cuba's sugar daddy, the Soviet Union.
He didn't survive the end of the Castro dictatorship, but when the last of the bearded bastards is dead, at least one of my cheers will be on Arenas's behalf. Very different than the film that was based on it. Early in the book he talks about writing some of his novels in long all night bursts, and that feeling comes through in the writing. It approaches the feeling of manic rambling jumping from thought to thought very quickly.
It's also very frank about sex and sexuality. The early parts of this book are about as scandalous as anything I've read. He's wielding his sexuality as a weapon. As though to say "You persecuted me for my sexuality? Well how Very different than the film that was based on it. Well how about this?
His politics, his relationships, even his hold of truth is murky and questioned. Before Night Falls 1 3 Aug 19, Prima che sia notte di Reinaldo Arenas 1 4 May 19, Videos About This Book. In , he moved to Havana to enroll in the School of Planification and, later, in the Faculty of Letters at the Universidad de La Habana, where he studied philosophy and literature without completing a degree. His Hallucinations was awarded "first Honorable Mention" in although, as the judges could find no better entry, no First Prize was awarded that year.
His writings and openly gay lifestyle were, by , bringing him into conflict with the Communist government. From to he was a journalist and editor for the literary magazine La Gaceta de Cuba. In , he was sent to prison after being charged and convicted of 'ideological deviation' and for publishing abroad without official consent. He escaped from prison and tried to leave Cuba by launching himself from the shore on a tire inner tube.
The attempt failed and he was rearrested near Lenin Park and imprisoned at the notorious El Morro Castle alongside murderers and rapists. He survived by helping the inmates to write letters to wives and lovers. He was able to collect enough paper this way to continue his writing. However, his attempts to smuggle his work out of prison were discovered and he was severely punished. Threatened with death, he was forced to renounce his work and was released in And especially not Cubans, writers or otherwise—.
Reinaldo did not know that in America he would become, not a celebrity, but an invisible man; that he would vanish, disappear. There is an old saying of the Cold War, first told me by Carlos Franqui, one of the early revolutionaries who joined Fidel Castro in the Sierra Maestra, to organize and direct Radio Rebelde: In time, of course, Arenas would learn that when you scream without a microphone, nobody hears you, except maybe the next-door neighbor, who calls the landlord who calls the police, to have you evicted from your 43rd Street, rat-infested, New York City apartment.
In the meantime, professors at famous American universities began expunging his novels from their syllabuses. Not a single Cuban intellectual, either inside or outside of Cuba, had been asked his opinion on the subject. Reinaldo wrote a letter of protest to the editor, which was never published. He did not exist. One of the editors of the publishing house was, yes, traveling back and forth to Cuba, learning about the Revolution. None were, but the promised shipment of genuine intellectual puros never showed up either.
As Cabrera Infante would say, Holy Smoke! How different it had been in Cuba. In , a then twenty-two-year-old Reinaldo Arenas had won second prize for the manuscript of his first novel, Celestino Before Dawn , in an annual competition for best fiction sponsored by UNEAC in Havana. The novel would be published in , selling out within a week, but would never be reissued inside of Cuba again.
It was eventually rewritten in exile as Singing from the Well. The first version is rumored to have been recently republished in Havana. On December 12, , the iconoclastical friar, Servando Teresa de Mier — , renowned for the brilliance of his oratory, his wit, and his intellect, had delivered a heretical sermon at the Cathedral of Mexico City.
Immediately, the incorrigible Servando was banished to Spain, tried, and imprisoned. The balance of his life was spent in jail or in flight, harassed by the Holy Inquisition, hounded by the Spanish authorities, escaping dungeons, wandering in exile. The infamous sermon had wreaked havoc on the course of his life, though fortunately it would provoke his final revenge: His, too, had been an age of revolutions , in America; , in France and conflicting fanatical fervors, throughout Europe and Latin America.
The powers of the Catholic Church and the Spanish Empire had been foundering on both continents.
On Dvd & Streaming
There were many Inquisitions, not all of them religious. Eighteenth-Century Rationalism, in its quest for ideological Purities whether atheistic or clerical, republican or monarchical , seemed bent upon cleansing the Body Politic of the Past, or of the Future. The irony was that, despite his strong objections to the Arenas manuscript, Carpentier could find no substitute worthy of the prize.
Never published in Cuba, it had to be smuggled abroad. Translations of the novel soon appeared, to critical acclaim, in half a dozen languages. In France, it was nominated for another prize—. Here was a brilliantly inventive, comic novel written by a Latin American Gorky, a Cuban peasant raised from the stark brutality of his impoverished childhood in rural Oriente Province, from an island once ruled by a capitalist dictator he had helped to overthrow, joining the rebels in the Sierra Maestra as a young teenager, a rural foundling whom now the Cuban revolution had generously lifted out of ignorance and, behold: Meanwhile, at home curious things began to happen to Reinaldo Arenas, the writer, who could no longer publish in Cuba.
Like Fray Servando before him, he found himself caught in an age of wars and revolutions, militant fervors and fanatical conflicts of ever spiraling dimensions. For here was another man of letters from another splendid Age—. Instead, he composed the furiously inspired rebuttal to that inhuman experiment: The first volume Singing from the Well , the poet as inspired wild-child, had already been written and published as Celestino. The second volume, The Palace of the White Skunks , smuggled out in , recounts the adolescent dreams of a sexually ambivalent Fortunato, raised in a house of frustrated aunts, a tyrannical mother, and two ferociously primal grandparents.
It had to be written three times, the first in , when it was destroyed by a friend who was supposed to be hiding it away, chapter by chapter, as Reinaldo wrote it. A second version was confiscated by the authorities in ; and the present version, smuggled out in , while Reinaldo was in prison. It was published in a purposefully? There eventually followed an incompetently translated and dreadfully edited version in France, in , which languished for years in a prohibitively expensive edition.
Until quite recently, this was the only readable—. Farewell to the Sea is set, like the previous novel, on the eve of an anticipated triumph that will produce unmitigated disaster: The novel is completely divided, one might say severed, into two parts: At the beach he has an affair with a young boy who on the sixth day mysteriously drowns. She often feels awkward with him; he rarely talks to her anymore, finds her mawkish and sentimental. She recognizes intuitively what he is, but is still hopelessly drawn to him, perhaps in part because of the very horror of the death-in-life that totalitarianism has imposed upon them both.
And yet, in her silent musings—. Arenas had entered a similarly arranged marriage, in a vain attempt to ward off the sexual witch hunt that grew to a Stalinist frenzy in Havana of the late sixties and early seventies, until the grotesqueness of it finally outraged the intellectual fellow travelers of Europe and the Americas. From the time Arenas finally settled in New York in until his death, he had one incredible stroke of publishing good-fortune. Saint Virgilio was listening. In the late s, a barely legible version of the fifth volume, The Assault , turned up in New York and Reinaldo set to work deciphering and revising it.
Indeed, his mind is so twisted by the nihilistic mechanics of a society that has been finally reduced to an indestructible system of destruction, he can only discover a kind of warped solace in the thought of somehow destroying his own mother. This ferocious quest for a kind of incestuously murderous exorcism takes him, and the reader, through every social layer of this hell. This was to be the final apocalyptic vision of a revolution gone mad.
Photo Gallery
Now, Arenas had only the fourth volume to write: The Color of Summer. The novel is a remarkable comic achievement, lending new meaning to the old adage: For in this Carnivalesque celebration of the 50th anniversary of the Cuban revolution actually the fortieth, but the dictator Fifo is ever prone to exaggeration , Arenas divides himself into three characters—. By the end, the island has been gnawed away from its rocky base and floats off into the Gulf Stream until it finally sinks. This deceptively casual structure was born of necessity: Arenas did not know exactly how long he had to live.
So each little vignette is in fact quite carefully structured as a complete entity unto itself, just in case it might suddenly be the last. And the novel was fitted together additively, so that not only the island may be atomized at any moment; so may the book. Arenas had become one of the greatest dissident authors not just of Cuba, but of the Cold War. Not many dissident authors have survived the Cold War. Some of course were destroyed by it, never returning from the various concentration camps that have dotted the maps and graveyards of the twentieth century.
Others became as irrelevant as the posturing of opposing forces that have settled back, winners or losers, into the wholly calculated pursuit of strictly capital ambitions. Does a dissident author ever survive the hour of his dissidence? When I first read Reinaldo Arenas, as he was editing and rewriting his works, I had been overwhelmed by the discordant power of his dazzling invective. Now, some ten years after his death, I am continually astonished at the pathos and beauty of his creations.
I sense that I am in the hands of a writer of enormous confidence, empathy and resilience. I realize, for example, that I have never read another novelist who writes so lyrically or intimately about the sea—.
Before Night Falls by Reinaldo Arenas;
Pushing The Limit.
Coexistence in Wireless Networks: Challenges and System-Level Solutions in the Unlicensed Bands!
Special Guests.
Before Night Falls – IFC Center.
There was an error trying to load your rating for this title.!
Throughout his works, Arenas has scattered one invocation after another, in every conceivable condition of light, hour, and weather, summoning the always shifting colors and textures, the ceaseless change and endless repetition of his vast, beloved sea. I understand now why it finally took a painter, Julia Schnabel, to make a film worthy of him, with Before Night Falls.
For Arenas himself was a luminous painter of the human soul; and, to the very end, used his gifts to uncover the poetry of a dark and darker world. Would you like to tell us about a lower price? If you are a seller for this product, would you like to suggest updates through seller support? Learn more about Amazon Prime. The shocking memoir by visionary Cuban writer Reinaldo Arenas "is a book above all about being free," said The New York Review of Books --sexually, politically, artistically.
Arenas recounts a stunning odyssey from his poverty-stricken childhood in rural Cuba and his adolescence as a rebel fighting for Castro, through his supression as a writer, imprisonment as a homosexual, his flight from Cuba via the Mariel boat lift, and his subsequent life and the events leading to his death in New York. In what The Miami Herald calls his "deathbed ode to eroticism," Arenas breaks through the code of secrecy and silence that protects the privileged in a state where homosexuality is a political crime.
Recorded in simple, straightforward prose, this is the true story of the Kafkaesque life and world re-created in the author's acclaimed novels.
User Reviews
Read more Read less. Add both to Cart Add both to List. Buy the selected items together This item: Ships from and sold by Amazon. Customers who viewed this item also viewed. Page 1 of 1 Start over Page 1 of 1. Waiting for Snow in Havana: Confessions of a Cuban Boy. Bacardi and the Long Fight for Cuba: The Biography of a Cause. American Families in the Cold War Era. Like Water for Chocolate: Sponsored products related to this item What's this? Do you know someone who loves history? Have they been to Cuba?
Frequently bought together
Do they know who Maximo Gomez was and what he did Cuba in ? Selected and Edited by M How did Napoleon beat all of his opponents? Here are Napoleon's secrets of success. Are you tired of people telling you to get out more and behave more like an extrovert? How did a 17 year old immigrant from South Africa become one of the wealthiest and most powerful businessmen in history?
Keep reading and find out Word by Word Readers: Possibly the most comprehensive, systematic and effective series of simplified early readers ever produced. About the Author Reinaldo Arenas was born in Cuba in Nobody heard… How different it had been in Cuba.
Related Books